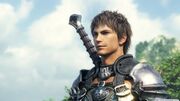 The journal entries of Valeros "Bud" Strong
It's been one year since I've left home, and deep down I know it's still too early to return home, return to those disaproving eyes of family.
Not sure what possesed me to accompy this gaggle of adventures, I blame the Queen's English, but the leaf rarely leads me down the wrong path.  I guess we'll soon see if this path leads to a way of fattening up coin pouch.
Section heading
Edit
Write the second section of your page here.